Do I Need A Prenuptial Agreement?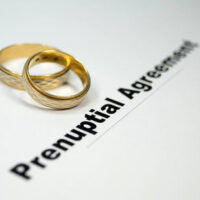 We get it, prenuptial agreements have kind of a bad rap. However, they also serve a lot of very important functions. While they do ask you and your fiancé to consider how you would like your assets treated in the event of a divorce, they also clarify roles and expectations for the marriage, and can create financial security for both partners moving forward. There are many reasons beyond "planning for divorce" to create a prenuptial agreement, and many people find that having one significantly strengthens their marriage. Not only because they have a clear understanding of their role, responsibilities, and financial obligations to each other and any shared children, but also because they know exactly what would happen if they were to leave. This creates a great deal of freedom since neither partner feels compelled to stay out of fear of losing their wealth. This means that both partners are remaining in the marriage because they want to, which can create a great sense of security.
Why to Get a Prenuptial Agreement
While there are many reasons to get a prenuptial agreement, here are some of the most common:
To clarify financial expectations for the relationship. People have all kinds of expectations about financial responsibility in a marriage that they often believe are shared until they actually talk about it directly. Creating a prenuptial agreement gives couples the opportunity to talk about how they want their financial future to look and to determine how best to make that happen.
To protect independently-owned businesses. If either spouse owns a business or creates one during the marriage it may be considered community property, and be vulnerable to division and equitable distribution during a divorce. It's important for each spouse to protect their business interests or decide as a couple to treat all business ventures initiated by either spouse as marital property.
To protect inheritances. If one spouse receives an inheritance it may be treated as separate property or marital property depending on a number of factors. An inheritance may be treated as marital property if it is deposited into a joint account or used to repair a shared home. However, you can stipulate in your prenuptial agreements that inheritances received by either spouse will be treated as separate property.
To protect your shared assets. If you live in an equitable distribution state, your shared assets can be divided unevenly, with one spouse receiving a greater share if a judge determines that to be equitable. However, if you decide to split shared assets 50-50 in your prenuptial agreement, that term will control in court.
To make sure both spouses feel secure in the relationship. If you are considering starting a family, there is a good chance that one spouse will have to sacrifice their career or education in order to care for the children and household. This could leave them unable to support themselves if a divorce were to occur. By knowing that they are entitled to spousal support of a comfortable amount in the event of a divorce, this spouse may feel more comfortable making these sacrifices to support the family.
Contact the Faulkner Law Group in Tampa, Florida
If you are ready to tie the knot and want to make sure that you are building your marriage on a strong and supportive foundation, contact a Tampa family lawyer at the Faulkner Law Group  to schedule a consultation today.
Source:
forbes.com/sites/christinefletcher/2018/09/18/10-things-you-need-to-know-about-prenups/?sh=2cbd15d462ba