Are Longer Lifespans A Factor In Divorce?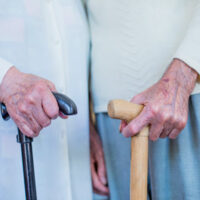 Just in terms of pure math, the longer a marriage lasts, the more likely it will end in divorce. This may sound counterintuitive, but longer marriages produce more opportunities to appraise your options and move on. Today, people are living longer than ever before and the rates of divorce among those 40 and over are the highest they've ever been. Of course, the math also explains why this is: those who live longer have more of a chance to appraise their options. Two-hundred years ago, making it to the age of 40 was considered a blessing from God. Today, it is taken for granted. Once material circumstances in the home change, so too do the priorities of the married. Once the children grow up and move out of the home, a marriage that was not built around the relationship between husband and wife will not survive the change in material circumstances. This is why divorce attorneys often have middle-aged clients who are moving on from their marriage and into a new phase that is almost like a second "relationship childhood".
When we were in college and high school, we dated people while we were dating other people, trying to figure out what we needed from a relationship, and just looking for someone else to have fun with. Marriages, however, require a commitment to the future that goes well beyond a single night. They presupposed that you will be living with this person for the rest of your life. Marriages built around children tend not to last past the age of 45 and we're seeing this play out in the statistics all across the country.
What are the social factors related to longer life spans spurring divorce? 
More people in society may see marriage as a function of the family. While divorce rates may be declining, marriage rates have significantly declined with rates as high as 70% in the 1970s now falling to around 30% in 2023. Many of the factors here are financial, but the financial cannot be entirely extricated from the social. While COVID may have tilted numbers a bit, the longitudinal trends were already in place. COVID actually created a small spike in the rate of marriage in 2022, but the momentum didn't stick. Instead, 2023 is showing a dip in numbers and this trend looks set to continue into the future.
The world is a bigger place 
While longer life spans are likely to result in higher divorce rates as opposed to marriages ending when one spouse dies, it's also true that the internet has opened up the world to new possibilities. One of those possibilities is online dating. In the past, access to potential partners was limited to your social group and whatever spilled out of it. Today, potential partners are one signup away from anyone who is interested and while online dating has its pitfalls, the mere opportunity for new partners is enough to spur some folks to move on.
Talk to a Divorce Lawyer in Tampa, FL
Faulkner Law Group, PLLC represents the interests of Tampa residents who are seeking divorce. Call our Tampa family lawyers today to schedule an appointment and we can begin discussing your best options for moving forward with your life today.
Source:
usatoday.com/story/life/2023/02/14/wedding-planning-marriage-rates-by-state-database/11212435002/