What Percentage Of Marriages End In Divorce?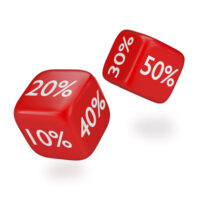 We've heard the statistic that 50% of all marriages end in divorce. However, what does that actually mean and how do we arrive at that number? Right now, there are millions of marriages across the United States. Some will end in divorce while others will not. Is it really a coin flip whether or not your marriage will end in divorce?
The issue is difficult for statisticians because today, the majority of divorces are coming from those in the 40-60 range. The phenomenon is known as "gray divorce" and there are a number of reasons why marriages are breaking up at this stage of the game. However, one of the foremost driving factors for divorce is that at around the age of 40-50, your kids are moving out of the house and going to college. This presupposes an empty nest in which couples then re-evaluate their priorities. Was this a successful marriage? Does a divorce that occurs after 20 years of marriage get factored in the same way as a marriage that ends in the first 5 years? The first 2 years? The first year? And what does this mean for the divorce rate? Is it lower or higher because of late-life divorces?
The divorce rate is actually declining, but so is the rate of marriage 
In the United States, and this mirrors trends across the world, people are marrying later in life due to financial stressors, the need to become financially independent prior to pursuing marriage, and one factor no one considers is the high cost of real estate in today's market. One factor that most don't consider when discussing marriage is the need to purchase a familial home. With homes more costly and less accessible, couples may be deferring marriage until later in life when their finances mesh with the economic reality of home acquisition and stable finances.
Analyzing the numbers 
Since marital success can no longer be tracked in terms of "until death do us part" we are now considering how quickly marriages end. While we don't have statistics on how many marriages end within the first year, we do know that about 22% of marriages end within the first five years. However, these statistics don't just include divorce. They also include separation and death.
The 50% divorce rate was actually built on projections gleaned from the 1970s, a time during which divorces were spiking. Since then, we have no reliable statistics to determine what percentage of marriages end specifically in divorce or any other factor related to the "rate of divorce". Instead, we can compare the number of divorces yearly to determine whether or not there were more or less of them. This information tells us that the rate of divorce is actually going down as couples become more selective and take more time to settle down. So, while the rate of marriage may be in decline, the quality of those marriages may actually be better.
Talk to a Tampa, Florida Divorce Lawyer Today 
Faulkner Law Group, PLLC represents the interests of those seeking a divorce in Tampa, Florida. Call our Tampa family lawyers today to schedule an appointment and we can begin discussing your future goals immediately.
Source:
psychcentral.com/health/the-myth-of-the-high-rate-of-divorce#divorce-statistics