Could Birdnesting Be An Option To Save Money After Divorce?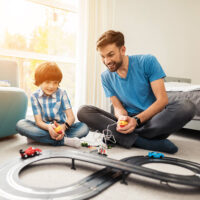 Who gets the home after you divorce? How about the children? This is becoming more of an option for parents who want to ensure the best interests of their children. Of course, it has to work for both parents too; so how does it work? Essentially, parenting time is split between the two parents who rotate into and out of the house when it becomes their time. The process is called birdnesting and it's becoming more of an option for parents who want to ensure a stable environment for their children even when their lives are in upheaval.
In order for this to work financially, there would have to be one apartment in rotation. Otherwise, you'd be adding more money to the matter. However, with finances concerning both the home and the apartment split 50/50 it places less of a burden on both parents to meet financial obligations.
The pros of birdnesting 
Generally speaking, when a couple splits, the custodial parent keeps the home and the other parent is placed on a visitation schedule. In cases where custody is split 50/50 that doesn't necessarily mean that parenting times are equal. In some cases, they can be equal, but split custody does not require a 50/50 timeshare. When a 50/50 timeshare makes sense, birdnesting can be a great option for parents. Typically, they will split the cost of a studio or one-bedroom apartment and also pay on mortgage and utilities for the home. The parents will then rotate into and out of the home.
The advantage is obvious. The amount of disruption in the children's lives is reduced because they have access to a stable environment. Financially, it makes sense because instead of the parents paying for two domiciles both of which are capable of housing children, they only have to pay for one domicile capable of housing children and then shave costs related to their own personal living situation.
The downside of birdnesting 
You really have to be able to coordinate with your ex and have a good working relationship to make it work. Further, the stability of your own living situation is severely reduced by the rotation. Some folks will not be able to function properly without a stable homebase to operate out of. However, those who can make the sacrifice will save money and potentially improve the transition period for their children.
Ultimately, birdnesting has to work for both parties in the divorce and the children. But if it can work, it provides major benefits to both spouses' finances and their children's psychological health.
Talk to a Tampa, FL Divorce Lawyer Today 
Faulkner Law Group, PLLC represents the interests of Tampa residents who are contemplating divorce. We can help you with all aspects of your divorce including property division and custody arrangements. Call our Tampa divorce lawyers today to schedule an appointment and we can begin discussing your goals immediately.
Source:
nbcnews.com/better/health/birdnesting-gives-kids-one-stable-home-after-divorce-does-it-ncna935336