Key Concepts In Divorce: What Is A Marital Estate?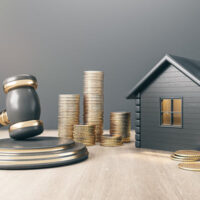 Are you concerned about property distribution and what will happen to your assets once you divorce? That's okay, it's one of the primary concerns of most individuals who are going through a divorce. There's nothing selfish about retaining control of the things you've devoted your life to. However, understanding the concept of the marital estate is the piece of information you need to have in order to protect the things you want to protect.
Strictly speaking, the marital estate consists of everything you acquired during your marriage. This can include businesses and real-estate holdings as well as retirement funds. So, very little is excluded from the marital estate beyond inheritances and personally acquired property that was acquired prior to the marriage.
Beyond that, the assets belong to both you and your spouse and will be subject to equitable distribution under the state laws of Florida. In this article, we'll discuss how you can work this to your advantage.
Businesses under equitable distribution 
Let's say that you started a business before the marriage. The business was valued at $250,000. During the marriage, the business accrued four times its value and is not valued at $1 million. Under the rules of equitable distribution, the initial $250,000 belongs entirely to you. However, the $750,000 in accrued value belongs to the marital estate. What happens if you want to keep the business entirely under your name?
Well, generally speaking, you would have to make an offer to your former spouse that compensates them for the $375,000 that they own. This can come in the form of other assets or businesses that they themselves want to protect. But another alternative is alimony, a lump sum payment, or you would be stuck having the title clouded with two owners, one of whom may only be interested in the business as an income stream.
While that eventuality does occur, there are ways around it.
Can I protect my retirement accounts? 
Yes, you can protect your retirement accounts, but the matter is similar to the business divestiture described above. You would have to offer something to the other spouse that would compensate them for half the value of the retirement account. Otherwise, the retirement account would be divested into separate accounts with your spouse acquiring half of what you earned.
While this situation may not be ideal for you, it does offer a way to protect a business interest or a retirement account by making an offer of something else.
Talk to a Tampa, FL Divorce Lawyer Today 
Issues related to asset distribution can get very complicated very quickly. When the stakes are high, you want an attorney who understands your individual needs, your desire to keep the business intact, and the effort you put into growing the business. There are ways to protect your business from being split in half. Call the Tampa divorce lawyers at the Faulkner Law Group, PLLC today to schedule an appointment and we can begin discussing your best moves right away.