How To Prepare For Divorce Mediation In Florida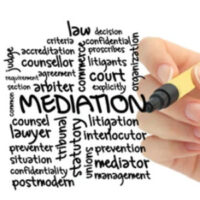 Divorce is far from rare. The United States Census Bureau reports that approximately one-third of U.S. adults who have ever been married have gotten divorced. That divorce is relatively common does not make it any less challenging for the person who is actually going through it. At the same time, a divorce does not have to turn nasty.
Mediation is a form of alternative dispute resolution (ADR) that emphasizes collaboration. It can be an effective way to resolve a divorce—saving both time and money. For divorce mediation to work, you need to be well-prepared. Here, our Tampa mediation lawyer highlights some of the key things to keep in mind when preparing for divorce mediation in Florida.
Carefully Organize All Relevant Information 
Too many divorce mediations run into impasses because the parties are not well organized. You can put yourself in the best position to reach a fair and efficient divorce settlement during mediation by carefully organizing all relevant documents, records, and other information. 
Be Ready to Discuss All Relevant Family Law Issues 
To get an uncontested divorce in Florida, you must resolve all relevant family law issues—from property distribution and debt distribution to child custody/visitation and child support. Make sure you come into the process prepared to deal with all material issues. 
Get into the Right Mindset for Mediation 
A divorce mediator helps the parties work through their issue. It is a non-adversarial process. The divorce mediator does not and cannot pick "winners." Mediation is about collaboration. You need to get yourself into the right mindset to work towards a divorce resolution. 
Look Forward: Focus on the Future 
Mediated divorces in Florida are generally no-fault divorces. It is not about assigning blame for the breakdown of the marriage. Instead, the divorce mediation process is most effective when it is focused on the future. A divorce settlement should set you up to move to the next chapter of your life. 
Know Your Alternative Options 
You should always know your alternative options. One of the central advantages of making a good faith effort to mediate a divorce is that the process is fully voluntary. You are not required to reach an agreement if you cannot find one that meets your needs. You have the right to withdraw from divorce mediation to take another approach. 
Seek Professional Guidance and Support 
You do not have to go through a divorce mediation alone. Guidance from an experienced divorce mediation lawyer can make a tremendous difference. Your divorce mediation lawyer can help you get prepared and represent you during the process itself.
Contact a Top Divorce Mediator in Tampa, Florida
At Faulkner Law Group, PLLC, our Tampa divorce mediation attorney is a compassionate, reliable, and solutions-driven advocate for people and families. If you are preparing to mediate your divorce, we are here to help. Contact us now to set up your strictly confidential initial case review. We provide divorce mediation services in Tampa, Hillsborough County, and beyond.
Source:
census.gov/newsroom/press-releases/2021/marriages-and-divorces.html