When Can A Judge Modify A Parent's Child Visitation Schedule?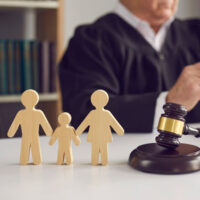 When minor children are involved in a divorce, the role of the court is to determine "all matters relating to parenting and time-sharing." In other words, the judge must decide issues related to custody, visitation, and so forth based on what is in the "best interests of the child" and not necessarily what is most convenient for the parents. Likewise, once the court decides the proper arrangements, modification is only permitted when a parent files a separate petition explaining how there has been a "a substantial, material, and unanticipated change of circumstances" justifying a change.
Florida Appeals Court: Father's Erratic ER Schedule Not an "Unanticipated Change in Circumstances"
Again, it is important to emphasize that a court is not supposed to change parental visitation or custody based simply on what might be more convenient for one parent. A recent decision from the Florida First District Court of Appeals, Patel v. Patel, provides a case in point. Here, a trial judge did modify a divorced couple's visitation schedule based on a request from the father. But the appellate court said the request was both improperly filed and failed to demonstrate a substantial change in circumstances.
Apparently, the issue was that the father worked as an emergency room doctor. This made it difficult for him to schedule time off for those weekends when he had visitation with his children. The former husband therefore filed a motion with the court to "appoint a parenting coordinator to work with the parties to adjust" the children's visitation schedule to better accommodate his work.
The trial court decided that the father could change one of his scheduled visitation weekends each month, provided he give the mother at least six weeks notice. While this may sound reasonable to an outside observer, the First District said it was problematic for two reasons.
First, Florida law requires that a parent who wishes to modify an existing parenting plan must file a separate petition for modification. The father did not do that in this case. That alone was grounds to reverse the trial judge's order, the First District noted.
Second, as explained above the law only permits modification of custody or time-sharing when there has been "a substantial, material, and unanticipated change of circumstances." Here, the father worked as an emergency room doctor at the time of the original divorce. That is to say, the fact that he still works in the ER with erratic hours is not an "unanticipated change in circumstances." More to the point, the father failed to present any evidence before the trial court explaining how his "current scheduling challenges are substantially different from his situation" when the trial court originally approved the visitation schedule. As such, there were no legal grounds to modify visitation now.
Speak with a Tampa Family Lawyer Today
Disagreements over custody and visitation often last well after a divorce becomes "final." If you need legal advice or representation in connection with any family law matter, the Tampa divorce attorneys at the Faulkner Law Group, LLC, are here to help. Contact us today to schedule an initial consultation.
Source:
faulknerlawgroup.com/tampa-divorce-lawyer/