Studies Say That Gay Couples Divorce Less Frequently Than Straight Couples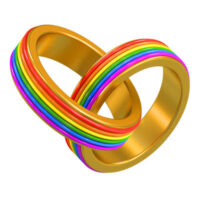 Two studies conducted in Europe appear to indicate that gay couples divorce much less frequently than their straight counterparts. In Denmark, the divorce rate for gay couples was 17% against 46% for straight couples. In the Netherlands, marriages between two men dissolved at a rate of 15%, while marriages between straight couples dissolved at a rate of 18%. These numbers appear to indicate that the gay couples tend to stay together more frequently than straight couples. But why?
As of now, there is no clear reason as all we have are statistics to indicate that the rate of divorce for gay couples is lower than that of straight ones. But that hasn't stopped Reddit users from opining on the statistics and offering various theories as to why gay couples stay together with more frequency than straight couples.
Answer #1: Latency of gay marriage rights 
This answer essentially holds that gay couples who decided to get married in 2015 when the SCOTUS struck down all state bans on gay marriage had been together for an extended period of time already. In other words, they already knew that their relationship had lasting power and when they decided to get married, they were already deep into their relationship. Straight couples, on the other hand, may be together for a short period of time before deciding to tie the knot. This theory is, of course, unproven.
Answer #2: Straight couples are pressured to get married 
For gays, there has never been an expectation of marriage. This is not true for straight couples. Society may exert certain forms of pressure on straight couples to get married if they are in a long-term relationship. Since gays have only had the option to marry since 2015, attitudes toward marriage are much different. Those who do decide to get married are generally in a better emotional position to remain married than straight couples who feel pressured to get married due to society's expectations.
Answer #3: Straight couples get married due to pregnancy 
One major reason for getting married could be an accidental pregnancy. Gay couples are much less likely to fall into this rabbit hole than their straight counterparts. Straight couples who do get married simply because they are having a baby may be more likely to get divorced once they realize their children are not enough of a reason to stay together. Gay couples don't have this problem.
Answer #4: Gay couples get married later in life 
Gay couples tend to get married later in life because of "delayed adolescence". In other words, gay couples are sowing their oats while straight couples are feeling societal pressure to pair off and settle down. Getting married when you're ready to do so as opposed to when you feel you should have a positive impact on the marriage.
Talk to a Tampa, FL Divorce Lawyer Today 
Faulkner Law Group, PLLC represents the interests of both gay and straight couples who are seeking divorce. Call our Tampa divorce lawyers today to schedule an appointment, and we can begin discussing your plan of action immediately.
Source:
queerty.com/why-do-gay-people-divorce-less-than-straight-people-do-reddit-has-some-deep-thoughts-20230625