Study Reveals That Divorce Causes Significant Harm To Men's Health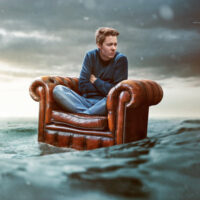 A recent study revealed that divorce could seriously and negatively impact men's health. Men who are divorced and live alone are much more likely to have failing health according to the study. Those who live alone for at least 7 years and see two of their relationships end tend to have more inflammation throughout their body, according to the study. Inflammation presents itself in the human body as pain. So, these emotional factors actually result in physical health problems.
Inflammation is a biological response to emotional stress. As such, it is an indicator of heart attacks, hardened arteries, cancer, dementia, and strokes. A study of over 4,800 people aged 48 to 62 tracked their divorces and relationship break-ups and how long they spent living by themselves. The study seems to establish that women who suffered multiple breakups did not suffer any form of increased inflammation. Men, on the other hand, did, according to the study. And the presence of inflammation was a major risk factor for a shortened lifespan.
Why are men susceptible to inflammation after divorce? 
The study opined that women tend to have larger social circles on which to rely post-divorce. In many cases, men tend to socialize through their wives which creates a situation where they could become alienated from social support directly following a divorce. The study indicates that men tend to become lonelier once their divorce has failed. Living alone was a major risk factor for the type of inflammation indicated by the study.
Men also tend to become more unhealthy after a divorce. Men showed higher levels of two chemicals associated with inflammation. Those are interleukin 6 and C-reactive protein. Evidence of these chemicals was 17% higher in men who recently underwent a divorce or lived alone for seven years or longer.
The study indicates that men tend to rely on their female partners for socialization much more heavily than women rely on men for social interaction. When their relationships fail, men find themselves isolated and alone. Women, on the other hand, have larger social networks and retain their friendships with more frequency. Men become alienated, start drinking, and show higher stress levels during a divorce than women. This results in serious physical health ailments that can shorten a man's life. Further, men who live alone don't look after themselves as well as those who have a married partner. Depression and anxiety is also a risk factor for higher inflammation levels. Anxiety especially can cause inflammation in the body, hypertension, and other risk factors for cardiovascular problems.
The study indicates that men who are going through a divorce should reach out to friends, attend support groups, or otherwise engage with others in order to avoid many of the mental health pitfalls that could result in serious physical consequences down the road.
Talk to a Tampa, FL Divorce Lawyer Today 
Faulkner Law Group, PLLC represents the interests of Tampa, FL residents who are going through a divorce. Call our Tampa family lawyer today to schedule an appointment and we can begin going over your options immediately.
Source:
dailymail.co.uk/news/article-10388903/Divorce-bad-news-mens-health-study-reveals.html