Divorce And Bankruptcy: What You Need To Know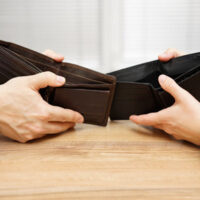 Divorce opens a number of issues for people, but one of the foremost is that finances that used to be split now fall entirely on each individual spouse. Support that they had at one time is no longer there. This means that debts and liabilities that the couple accrued during the marriage are more difficult to pay as finances tighten. For that reason, much like love and marriage, divorce and bankruptcy sometimes go hand-in-hand.
Ultimately, bankruptcy can be avoided by couples who prepare for the financial implications of divorce. It is by no means a given that bankruptcy and divorce go hand-in-hand. In these cases, money struggles generally predate the divorce and in many cases, are the primary cause of the divorce.
Couples living together post break-up 
This is something that live-in partners are doing more and more of as the economy transitions post-COVID and several disruptive factors coalesce to put more Americans in the position of living check-to-check. One solution to this problem, if you can tolerate it, is cohabitating as roommates post-break-up. How does this work? Well, it would be different for every couple, but it would presuppose that the couple has enough mutual respect to allow the other to pursue their goals.
According to a statistic gleaned from the UK, 34% of couples who purchased a home together remained in cohabitation after the breakup. The average amount of time they lived together was 1.3 years. One out of every 8 of these couples were forced to share a bedroom.
Does that work? 
Statistically, the outcome was not promising. Only 9% reported that they remained diplomatic with one another during the cohabitation period. 30% reported that it was "awkward" and 49% described it as somewhere between "unpleasant" and "excruciating".
However, nearly half reported that their financial situation was so bad that they could not afford to move anywhere else. Will this become an issue on this side of the U.S.? The answer is: It already has. The cost of living, rents, food prices, and gas are all skyrocketing and Americans are living on razor-thin profit margins. These factors are the same basic forces that are forcing UK couples into the same living space even though half find it very difficult.
Birdnesting 
An alternative to remaining in a single space with a former partner is also provided to us by our friends across the pond. The process is called birdnesting and it involves the purchase of one apartment that is split between the former couple. When it comes time to spend time with the kids, the one partner rotates out of the family home and the other partner rotates in. Of course, this remains an option only for couples who have children, a family home, and are willing to give it a try.
Talk to a Tampa, FL Divorce Lawyer Today 
Faulkner Law Group, PLLC represents the interests of Tampa residents who are ready to move on from their spouse. Call our Tampa family lawyers today to schedule an appointment and we can begin discussing your next moves immediately.