Can Police Post Signs On Your Lawn Telling Children To Stay Away?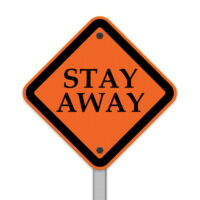 A sex crimes conviction can quite literally follow you for life. This is because even after you serve any prison sentence or term of probation, the government can force you to register as a "sex offender," often for the rest of your life. Some Florida municipalities may even restrict where a registered sex offender can live or visit.
11th Circuit Rules Georgia Sheriff's "Compelled Speech" Violated First Amendment Rights of Registered Sex Offenders
But there are limits to how far the state can go to "protect" the public from people who have already served time for their crime. The U.S. 11th Circuit Court of Appeals, which has federal appellate jurisdiction over Florida, recently discussed one such limit in a Georgia case, McClendon v. Long. Here, the issue was whether or not a local sheriff could forcibly compel convicted sex offenders to engage in certain speech.
The three plaintiffs in this case all lived in Butts County, Georgia, and were required to register as sex offenders under Georgia law. In Georgia, there is also a process for further classifying registered sex offenders who are deemed to "pose an increased risk" of committing future sex crimes. None of the three plaintiffs here met that standard. Indeed, all of the sex crimes convictions here were over a decade old.
In any event, a few days before Halloween in 2018, the local sheriff directed his deputies to place "warning signs in the front yards of the residence of every registered sex offender" in the county. This included the three plaintiffs. The deputies told the homeowners these signs were "the property of" the sheriff's office and could not be removed. The signs said, "WARNING! NO TRICK-OR-TREAT AT THIS ADDRESS! A COMMUNITY SAFETY MESSAGE FROM BUTTS COUNTY SHERIFF GARY LONG."
The plaintiffs sued the sheriff, alleging that forcing them to keep these signs in their yard violated their First Amendment rights. A trial judge dismissed the lawsuit, reasoning there was nothing stopping the plaintiffs from posting their own signs "competing with the Sheriff's Office views and to disassociate themselves from those views." As such, there was no risk that people would believe the sheriff's signs actually represented the views of the homeowners.
On appeal, the 11th Circuit saw things differently. It held the signs were compelled speech. The message may have come from the sheriff, but it was posted on private property. In effect, the sheriff "required the use of private property as a stationary billboard for his own ideological message." Whether anyone would think the property owners "endorsed" this message was irrelevant, the Court said.
Speak with a Florida Criminal Defense Attorney Today
Even a seemingly minor or nonviolent sex crimes conviction can lead to a lifetime of dealing with abuse at the hands of law enforcement. That is why it is crucial to vigorously contest such charges at the outset. If you need legal advice or counsel from a qualified Tampa sex crimes lawyer, contact the Faulkner Law Group, PLLC, today to schedule a consultation.
Source:
media.ca11.uscourts.gov/opinions/pub/files/202110092.pdf