What Happens If I Sell Firearms Without A License?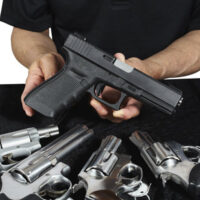 The Second Amendment may guarantee your constitutional right to keep and bear arms. But that does not mean you have an unrestricted freedom to purchase or sell such weapons within the state of Florida. Indeed, there are a number of federal and state laws designed to carefully regulate the marketplace for weapons–and if you are caught trying to skirt the system, you could be facing some serious criminal charges.
Florida Man Pleads Guilty to Illegally Selling Weapons at Flea Market, Faces 5 Years in Prison
Take this recent announcement from the United States Attorney's office in Fort Meyers, Florida. Federal prosecutors reached a plea agreement with a man charged with dealing in firearms without a license. According to court records, the case began when agents of the U.S. Bureau of Alcohol, Tobacco, Firearms, and Explosives (ATF) in Fort Meyers received a call that a man named "Larry" had been selling firearms at a local flea market.
The ATF later identified "Larry" as the defendant in this case. The ATF's own database revealed the defendant had "purchased multiple firearms of similar make, model, and caliber," which suggested to agents that he was actually buying these weapons to resell them. Anyone selling weapons must have a Federal Firearms License from the ATF. The defendant did not have such a license.
ATF agents proceeded to conduct multiple undercover purchases of weapons from the defendant at the flea market. This led to the ATF obtaining a search warrant. At the defendant's home, the agents recovered 29 firearms and over $36,000 in cash. Altogether, prosecutors said the defendant "made approximately 56 multiple sales transactions" involving over 300 firearms.
As previously noted, the defendant agreed to plead guilty to one count of dealing in firearms without a license. The plea agreement did not contain any particular sentencing recommendation. However, the maximum penalty for this crime under federal law is five years in prison, a fine of $250,000, three years probation, and a $100 special assessment. The defendant also agreed to forfeiture of all of the weapons seized by the ATF to the government.
Speak with an Orlando Weapons Charges Lawyer Today
One thing that should be understood here: The occasional sale of a personal firearm does not make you a criminal. In other words, if you happen to keep a single handgun in the house and decide to sell it to your neighbor, you should not expect ATF agents to come busting down your door. But if you are "engaged in the business" of selling weapons–i.e., you repeatedly buy and sell firearms with the goal of making a profit–then you need to have a Federal Firearms License. It does not matter if you want to sell weapons at a flea market or a local gun show.
And if you do find yourself facing federal or state weapons charges and need legal representation from a qualified Tampa criminal defense lawyer, contact the Faulkner Law Group, PLLC, today to schedule a consultation with a member of our team.
Source:
justice.gov/usao-mdfl/pr/north-port-man-pleads-guilty-dealing-firearms-without-license