Teacher Accused Of Using Meth During Conference Call With Prisoner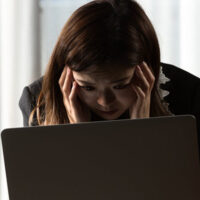 A Florida sheriff accused four women of impropriety during calls with prison inmates. This included a teacher accused of using meth during her conversation. The teacher is near retirement age and insists she has never touched meth in her life. In response to the claim, she was suspended by the school. It remains unclear that the teacher had a meth pipe on her at the time.
This information was delivered via social media and the teacher has now retained a civil rights attorney. Three others were accused of having sexual conversations with inmates. It remains unclear, however, that's a crime. The State's Attorney says that having sexual conversations with an adult is not a crime.
However, there are rules to these visits, and drug abuse or drug paraphernalia is not allowed. Guns, gang signs, and provocative clothing are not allowed.
Video calls in lieu of in-person meetings 
Today, inmates are allowed video calls with family and friends. However, the calls are recorded unless an attorney is present and it is a part of your case. So, video calls are becoming more popular in a post-COVID world and you have to follow specific rules. Most of these rules are set by the prison and don't necessarily rise to the standard of a crime.
So, while the prison can make a rule stating that you can't arouse your boyfriend on video chat, it isn't necessarily a crime either. While it could be a crime if there was a conspiracy to commit an illegal act that was arranged via teleconference, it's not illegal to talk dirty via teleconference.
Breaking the rules may not add years to your sentence, but it could influence the parole board. It could also prevent you from receiving video conference calls in the future. Other privileges can be taken away from you. So, it's not without consequences.
Was there a meth pipe? 
It remains unclear. I couldn't find the video of the alleged meth pipe. Suffice it to say, the sheriff is looking for meth. He arrested his own daughter on meth trafficking charges and half his Facebook page is devoted to meth. So, he's definitely crusading against meth. Now, as to whether or not a grandmother-aged teacher has a meth problem, that seems unlikely. So, it's going to be a real problem if you Facebook shame a teacher just based on visual evidence.
In cases like this, the police officer acts as judge, jury, and executioner by publicizing the teacher's alleged conduct. The teacher faces consequences at her job as a result. However, you haven't proven anything, and if you do file criminal charges, the jury pool could be tainted.
Talk to a Tampa Criminal Defense Attorney Today 
If your face ends up on Facebook as part of an arrest, then that will be considered a part of your punishment. Faulkner Law Group can help those charged with drug crimes and fight crusading sheriffs who see meth everywhere. Call our Tampa criminal lawyers today to schedule an appointment and learn more about how we can help.
Source:
franklincounty.news/stories/sheriff-denounces-video-visitation-abuses,25804