Criminal Mischief Spree Ends In Murder Charge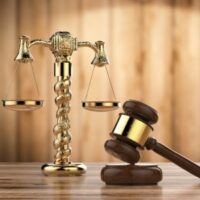 Charges have been filed against two individuals in a brutal and senseless attack against a 49-year-old man. The pair had been roaming the streets smashing up cars with a tire iron when they crossed paths with the victim who was riding his bike. They knocked the victim off the bike and then bludgeoned him to death with the tire iron. They left another victim behind and a lot of damaged property. The other victim was an elderly man who sustained injuries but was released from the hospital.
Surveillance video helped police trace the vehicle used by the suspects. They arrested two suspects, one was the 26-year-old owner of the vehicle used in the attacks. The other was an 18-year-old associate. The 26-year-old was out on probation for an armed carjacking. The 18-year-old has been charged with being a principal to an armed murder.
Why do things like this happen? 
What sense does it make for a guy who is out on probation to run around the city with a tire iron smashing whatever is in his way in a vehicle registered under his name? Probably not a lot of sense if you're a normal citizen whose major goal is to stay out of prison. But what if your goal is to get into prison? Then committing a series of violent acts such as these is the surest path there.
Both suspects are facing charges related to first-degree murder along with the criminal mischief charges related to property damage. Florida makes it very difficult for those convicted of first-degree murder to get out of prison. Most convictions under the statute are life sentences. So, this is how they've spent their life. The biggest problem is that they've spent someone else's life as well.
Police say that the 26-year-old confessed to the attack and appeared remorseless as he did so.
Death penalty case? 
It remains unclear if prosecutors will seek the death penalty in this case, but they could if they so desired. It would then be the defense attorney's job to argue for the defendant's life. In most cases, attorneys can leverage a prosecutor into a life sentence. Death penalty cases are costly and time-consuming, so they tend to be set aside for the worst of the worst. The prosecutor may pursue the death penalty as a means of securing a life sentence. A defense attorney would certainly feel as though he did his job in securing a life sentence if capital punishment were on the table. Nonetheless, chances are good that the defendant will be offered a plea for life in exchange for taking the death penalty off the table.
Talk to a Tampa Criminal Defense Attorney Today 
Faulkner Law Group represents the interests of individuals charged with crimes in Tampa. Call our Tampa criminal defense lawyers today to schedule a consultation and learn more about how we can help.
Source:
wfla.com/news/pinellas-county/clearwater-police-to-give-update-on-murder-of-bicyclist-bludgeoned-to-death/