Public Defender Accused Of Making Terrorist Threats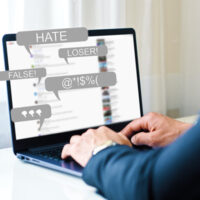 At the risk of sounding self-serving, this is reason number 1254 that you should avoid a public defender. In this case, one public defender is accused of making terrorist threats and/or having a pattern of issuing violent threats to state attorneys. He issued a series of unhinged threats and referenced guns in emails to state officials. In one case, after being accused of making a terrorist threat, the defender told an official that "acts of terrorism were his favorite" and "KABOOM, <expletive>.
The defender attempted to walk back his comments by claiming they were a joke. However, at that point, he had produced enough threatening communications to warrant a probable cause affidavit. He remains in jail while awaiting charges.
What happened? 
The public defender was in good standing until 2020 when he took to social media to lambaste Attorney General Dave Aronberg for being racist and a white supremacist. He is currently under hearings that will decide whether or not he can practice law in Florida. Those hearings appear not to be going well as the defender continues to issue escalating threats via social media.
There are two elements to a case like this. First, a threat must be issued to a state employee. Second, the threat must be credible. In other words, it must be within the power of the defendant to pull off the threat. In most cases, the second element fails. However, the defendant isn't scot free. Issuing a threat like this disturbs the peace and forces a response. That response costs money. In some cases, a defendant can be held civilly liable for the cost of the response.
It remains unclear why this attorney believes he can issue these sorts of threats online, but eventually, it will force the government to respond. Perhaps that is the point; to become Aronberg's martyr. But he is not helping his situation with the bar, and he is increasing the risk that he will face actionable criminal charges.
What actually happened? 
The public defender was clearly upset with Aronberg for reasons that are either real or perceived. At this point, we haven't heard his side of the story, why he thinks Aronberg is racist, what the basis for that allegation is, and whether or not it's provable. Aronberg responded aggressively to the allegations and moved to disbar the attorney. The attorney, instead of de-escalating the issue, has moved to escalate it. This is forcing Aronberg to respond using more and more heavy-handed tactics.
Does Aronberg have the authority to disbar a lawyer based on a social media tirade? Maybe not. But the lawyer has given Aronberg the ammunition he needs to disbar him for making deadly threats. So at this point, the lawyer has proven Aronberg's case for him and regardless of what Aronberg did to justify the allegations, the lawyer has committed a crime and will be disbarred. Even if he's right, he loses.
Talk to a Tampa Criminal Defense Attorney Today 
Accused of a crime? Don't roll the dice with a public defender. Call the Tampa criminal lawyers at Faulkner Law Group, PLLC today to schedule an appointment and learn more about how we can help.
Source:
tallahassee.com/story/news/local/state/2023/01/18/ex-public-defender-arrested-in-leon-co-after-making-violent-threats/69818937007/