Is It Legal To Skateboard In Tampa?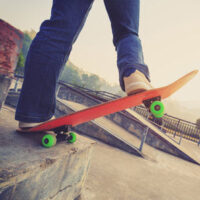 Tampa is one of a handful of cities that have voted to make it a crime to use a skateboard on public sidewalks. Those caught skateboarding in Tampa can face misdemeanors for the conduct. As it stands, there's no way to criminalize being a jerky youth, so the elderly masters of Florida saw fit to make one of the things incorrigible youths do illegal (skateboarding). Tampa police, however, rarely enforce the ordinance unless someone is being reckless or causes injury to someone else.
Recently, however, the rules were reconsidered. The Tampa city council voted 5-2 to lift the ban on skateboarding. The City wanted to be able to enforce rules related to skateboarding by charging individuals $75 tickets. The measure was blocked and now it should be legal to skateboard in most areas of Tampa.
Prior to this vote, it was illegal to skateboard in most areas of Tampa. Skateparks and other areas set aside for skating were the lone exceptions. Even bike lanes were restricted to skateboarders. Today, it looks as though the ban is lifted and skateboarders will once again be allowed to roll around Tampa streets.
Criminalizing skateboarders 
Again, you can't make it illegal to be an obnoxious kid, so you have to make it illegal to do something that obnoxious kids do. In Florida, where there are a lot of rich elderly people, obnoxious kids are a major source of consternation. So, you end up with legislation that targets them directly by targeting something they enjoy.
Usually, something happens to spur this legislation. For example, obnoxious kids causing property damage, injuring, or frightening people while they're on their skateboards. Causing property damage or injury remains illegal and skateboarders can still be charged with criminal mischief or disorderly conduct if they do not control themselves appropriately.
However, it is apparent that certain forms of locomotion are not intrinsically more dangerous to the public than others and if that was the primary consideration, then scooters would have likely been banned already. As it stands, there are no ordinances related to scooters with the exception of age restrictions and a valid driver's license or cyclists both of which can go faster than skateboards. Obviously, the problem isn't the skateboards but the skateboarders.
Regardless, there is going to be renewed attention paid to skateboarders now that this legislation is in the public's mind. Police will be more likely to be looking for unruly skateboarders now that our attention has turned to this ordinance. There is still the possibility that authorities can charge Tampa residents under state law for crimes like disorderly conduct if a skateboarder is disturbing the public peace. Nonetheless, proprietors still want to be able to restrict access to paying customers and not those who frighten them away. And that is what this boils down to.
Talk to a Tampa Criminal Defense Attorney Today 
Caught skateboarding in Tampa? You may need a Tampa criminal defense lawyer. Call Faulkner Law Group today to schedule an appointment and learn more about how we can help.
Source:
cltampa.com/news/tampa-city-council-votes-to-legalize-skateboarding-14491890