Why Representing Yourself In A Criminal Trial Is A Bad Idea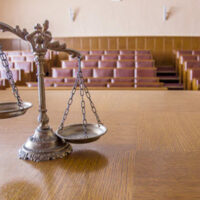 Everyone has the right to the assistance of counsel when charged with a criminal offense. You should always invoke this right. Yes, you can legally represent yourself in court, but it is never a good idea. While you may think you can handle the rigors of a criminal trial without a lawyer, keep in mind you will be facing highly experienced prosecutors who understand the law a lot better than you.
Appeals Court Rejects Defendant's Plea for New Trial After He Repeatedly Fired Court-Appointed Lawyers
Also keep in mind, if you do represent yourself and the jury finds you guilty, an appellate court is not going to sympathize with your plight. Take this recent decision from the Florida Third District Court of Appeals, Maps v. State. In this case, a defendant apparently fired a series of court-appointed lawyers and decided to represent himself at trial. You can probably guess what happened next.
This case actually has an unusual backstory. The underlying crime was a sexual battery committed in 1989. The defendant was not arrested until 2015, however, after he was identified by a DNA match. As previously mentioned, the trial judge appointed a number of lawyers to represent the defendant, but he was "dissatisfied with most, if not all, of them," according to the Third District.
Eventually, the defendant asked for permission to represent himself at trial. As the Third District explained, the trial judge asked the defendant "a series of questions to ensure he understood the benefits of counsel and consequences and risks of self-representation, addressed the severity of charges against Maps, including possible penalties, and inquired into his competency."
Ultimately, the judge was satisfied that the defendant was mentally competent and that he "knowingly, intelligently, and voluntarily waived his right to counsel." Apparently, the defendant then changed his mind just before jury selection began and asked for a new lawyer. After the court appointed one, the defendant was again dissatisfied and decided to proceed on his own. The jury proceeded to find the defendant guilty and he received a life sentence.
On appeal, the defendant–now represented by a public defender–argued he should be granted a new trial because the judge erred in allowing the defendant to represent himself. As noted above, the judge did make specific inquiries into the defendant's competence before allowing him to represent himself initially. Such an inquiry is in fact required by U.S. Supreme Court precedent. The defendant's argument here was that after he initially changed his mind and agreed to be represented, the judge was then required to conduct a separate inquiry after the defendant changed his mind a second time and fired his final court-appointed lawyer.
The Third District did not agree with this line of reasoning. The defendant did not dispute that his initial waiver of his right to counsel "was made knowingly, intelligently, and voluntarily." Given this, and given that there was "no changes in the intervening circumstances" when he changed his mind, there was no basis to believe the second waiver was improper.
Speak with a Florida Criminal Defense Attorney Today
The lesson here can be stated succinctly: Never waive your right to counsel. While no attorney can guarantee you an acquittal, an experienced Tampa criminal lawyer can ensure your legal rights are protected and assist you in obtaining the most favorable outcome possible for your case. So if you have been charged with a crime and need representation, contact the Faulkner Law Group, PLLC, today.
Source:
scholar.google.com/scholar_case?case=7514389979830698506