What Are The Differences Between Federal And State Criminal Trials In Florida?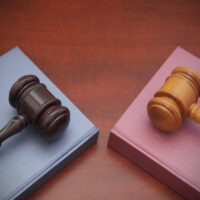 Most criminal cases are tried at the state level. This means if you are charged with a crime, your case will most likely be heard in a Florida state court. But there are certain criminal cases that must be tried in federal court instead. So what are the differences?
Who Has Jurisdiction?
Any court must have jurisdiction to hear a particular case. This includes jurisdiction over the relevant subject matter. Most criminal prosecutions involve alleged conduct within a particular state's jurisdiction and are thus handled in that state's courts.
When the alleged criminal conduct crosses state lines, however, that can invoke federal jurisdiction. For example, kidnapping a person in one state and taking them to another is a federal crime. So is buying or selling controlled substances across state lines. Additionally, crimes committed on federal property, such as a national park or military base, are subject to federal criminal jurisdiction.
In some cases, federal and state jurisdiction may exist over the same crime or incident. When that happens, the prosecutors may decide between themselves who will prosecute. Or both the federal and state governments may elect to prosecute the defendant separately.
Who Prosecutes?
When someone is charged with a state crime in Florida, the prosecution is handled by the local State Attorney's office. The State Attorney–also known as a District Attorney in many other states–is an elected official who supervises the work of other prosecutors in a particular Florida county. In the federal system, prosecutions are handled by the United States Attorney's office. The U.S. Attorney is appointed by the President of the United States to oversee cases in a specific federal judicial district.
Who Tries the Case?
In Florida, State criminal cases are tried in the Circuit Court. The state is divided into 20 circuits, each including at least one county. Circuit court judges are elected by the voters to six-year terms. Florida also has County Courts, one for each of the state's 67 counties. County court judges, who are also elected for six-year terms, hear many criminal cases that do not require a jury, such as traffic offenses and other misdemeanors.
All federal criminal cases are heard by a U.S. District Court. There are such three courts in Florida, designated the Northern, Middle, and Southern Districts, respectively. The judges of these courts are appointed by the President of the United States and serve life terms. Some preliminary matters in criminal cases are heard by federal magistrate judges, who are appointed by the District Court judges to assist them with their workload.
Speak with a Florida Criminal Defense Attorney Today
Regardless of whether you are tried in federal or state court, you still have the same basic constitutional rights, including the right to counsel at all stages of the process. If you have been charged and need legal representation from a qualified Tampa criminal defense attorney, contact the Faulkner Law Group, PLLC, today to schedule a free confidential consultation.