What Is The Difference Between A Bench And Jury Trial In A Florida Criminal Case?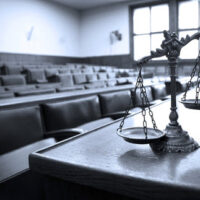 You likely already know that when you are charged with a serious crime in Florida, you have the right to a trial by jury. But can you waive that right? What happens if you want the judge to decide your case without a jury? And is there any reason you should want to do that?
In fact, you are free to waive your right to a jury trial. If you do so, your case will then be heard by the judge sitting alone. This is known as a bench trial. This is only allowed if you agree–neither the prosecution nor the judge can force you to accept a bench trial in lieu of a jury.
Aside from the absence of a jury, a bench trial is largely the same as any other criminal trial. The prosecution and the defense each have an opportunity to present opening arguments. The prosecution must then produce its witnesses and other evidence, which the defense can choose to cross-examine. The defense may also present its own case, although it is not required to do so. As the defendant, you have a constitutional right not to testify, and the judge cannot hold a decision to remain silent against you. After both sides rest their case and make closing arguments, the judge will then render a verdict.
The Advantages and Disadvantages of a Bench Trial
In practice, few defendants opt for bench trials. There is always a risk in allowing one person to decide your fate. Also keep in mind, the judge hears a lot more than a jury does. In jury trials, the judge acts as a gatekeeper who decides what evidence the jurors can and cannot hear. Although the judge technically performs the same role in bench trials, it can be less effective. After all, even if the judge rules evidence is inadmissible, they still heard the evidence before making that ruling.
So why would anyone elect to go with a bench trial? One reason is speed. A bench trial is usually quicker than a jury trial. After all, both sides need time to select and present a case to a jury.
Along similar lines, if the dispute is primarily legal rather than factual, a bench trial may be sufficient to protect the defendant's rights. Consider a misdemeanor drug possession case. Let's say the state's key evidence is marijuana found in the defendant's car. The defense maintains the evidence was obtained in an illegal police search but otherwise concedes the drugs belonged to then. Since the judge is required to resolve the legal dispute over the legality of a police search anyways–that is a question of law, not a question of fact–the defendant may find it more convenient just to forego the jury altogether.
But again, every case is different. And as a general rule, a jury trial is often a person's best defense against an aggressive prosecutor. That is why you should not make any decisions regarding your rights without first consulting an experienced Tampa criminal defense lawyer. Contact the Faulkner Law Group, PLLC, today to schedule a consultation.