Do I Have To Take A Breathalyzer Test?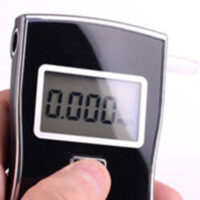 If you are pulled over on suspicion of DUI, you are probably panicking. A DUI conviction can have serious and life-altering consequences, so it's important to treat this seriously. Simply by driving on Florida's roads, you have given implied consent to taking breathalyzer tests and abiding by all of the state's traffic laws. However, all that that really means is that there will be consequences for not doing it, not that you can't.
What Happens if I Refuse a Breathalyzer Test?
A number of things will happen upon refusing a breathalyzer test. The officers may ask that you perform a field sobriety test, such as by walking in a straight line or standing on one foot. It's important to know that you also have a right to refuse to perform these tests. You'll then likely be taken to the station, where they will get a warrant to test your blood, urine, or breath. Some time will have passed between being pulled over and being tested at the station, which could positively affect a reading. However, they will likely account for that in their testimony. Additionally, the fact that you refused the breathalyzer test can be used against you by the prosecution in court. So you can still be found guilty of DUI based on other evidence even if you deny the breathalyzer.
In terms of consequences, immediately upon refusing a breathalyzer test your license will be suspended. However, license suspension is an administrative process as opposed to a criminal one. Unfortunately, they are not mutually exclusive. As noted above, the fact that you refused the breathalyzer test can be used against you at trial. Additionally, refusing a breathalyzer test makes you ineligible for entering into any pre-trial diversion programs, so if you are convicted of DUI, you are likely to face a harsher sentence than you would be otherwise. This is understandably a lot of factors to weigh in the moment, and can definitely be overwhelming. In most cases, it is better to take the breathalyzer test and then hire a lawyer to work to get the charges dismissed or reduced. However, in some cases, such on where you suspect you might be on the verge of having a legal BAC level and where the police lack external evidence to use in your conviction (such as having witnessed reckless driving, smelling alcohol on your person, or seeing an open alcohol container in your car), you may decide that you would rather take your chances by refusing to take the breathalyzer test. In either case, it will be important to have an experienced Florida criminal defense lawyer to represent your interests and fight to get you the best possible outcome in your case.
Contact the Faulkner Law Group Today
If you are facing DUI charges in Florida, it's important to have a dedicated legal advocate on your side. Contact the Tampa criminal lawyers at the Faulkner Law Group today. The sooner you call, the sooner we can start working for your charges dropped.
Source:
leg.state.fl.us/statutes/index.cfm?App_mode=Display_Statute&URL=0300-0399/0316/Sections/0316.1932.html